Three trustees enjoyed a real treat at HMP Guys Marsh in December 2019.  We were invited to attend a Christmas Celebration Event organised by the Prison's Education Department in collaboration with Weston College.  This event showcased a range of achievements from almost 30 residents, acknowledging their engagement and recognising their success.  Tutor and lecturers from the Education Department nominated a range of residents for awards, for a variety of reasons (these included their commitment, the support which they had given to peers and residents' individual success stories).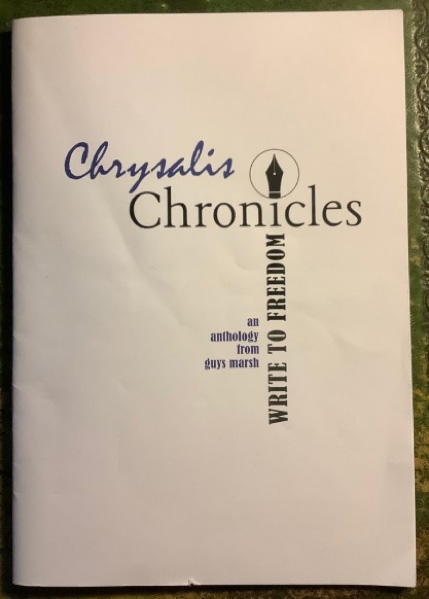 As trustees, we also heard residents read a selection of their published poetry (excerpts from the anthology 'Chrysalis Chronicles' produced with the support of the Creative Writing Department at Bath Spa University and edited by Ella Simpson).  This was a poignant moment which represented an enduring legacy for a most impressive programme involving a significant number of residents).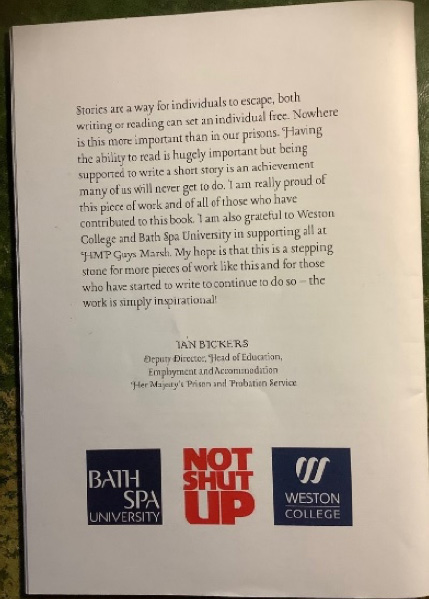 It was truly humbling to witness just how much this experience meant to those whom it had touched so deeply.  The residents' involvement in this project had given them a raft of new opportunities, a rich learning experience and clearly strengthened their feelings of self-confidence and self-belief through their new 'voice'.
We also heard from the Mayor of Gillingham who praised the residents' contribution to the 'Gillingham in Bloom' festivities.
During the Christmas Celebration Event, Shaun Bracey thanked the residents (and their children) for engaging in FOGM's Christmas Card Competition.  Shaun explained that the winning entries had been professionally printed as Christmas cards and showed the audience examples of these. Shaun and Phil Silvester (with the quiet supervision of Mary-Ann Newson-Smith!) took this opportunity to give out sets of art materials (plus a set of the printed Christmas cards) to the winners of FOGM's competition.  The residents definitely enjoyed receiving their prizes, to the applause of an engaged audience.
This was, indeed, a lovely occasion – full of the spirit of Christmas!
Phil Silvester CBE