June 3rd – An Evening with Noel 'Razor' Smith
The event was held on:
June 3rd 2016
at the historic
Tithe Barn, Hinton St. Mary ~ 7pm for 7.30pm until 10pm
For directions see map.
A pavement artist, a bank robber and committed felonist with access to a sawn-off shotgun, a task otherwise known as "taking nostrils for a walk". Imprisoned for life with a minimum of 13 years in 1997 for his part as one of the "Laughing Bank Robbers" as dubbed by the press. He attempted escape from Wandsworth Prison using a JCB. Heavily institutionalised and largely imprisoned since the age of 14; often in solitary confinement. That is until he "went clean a few years ago". That was Razor Smith.
Now there is Noel Smith.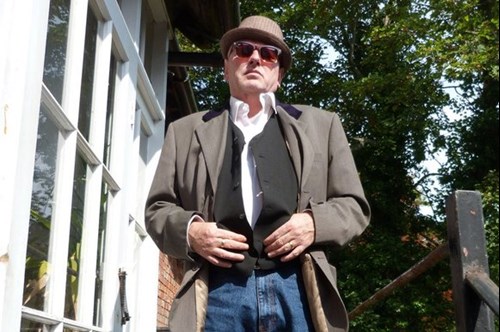 Author, lecturer and reformed man because he saw the light….had an epiphany…."the scales fell from his eyes"……when he lost his son. His son committed suicide after being released from HMP Feltham, a notorious young offender's institution. Smith realized that "crime, greed and violence" had killed his boy and so worked to change his life whilst in prison and this turned out to be his last sentence. He taught himself to read and write, gained GCSEs and a diploma in journalism and published 3 books during this time, helped by his friend and journalist Will Self and through sheer hard graft; against the odds.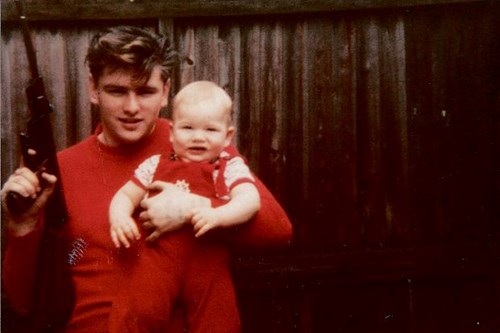 Smith's memoir – 'A Few Kind Words and a Loaded Gun' is "one of the most eloquent and least sentimental accounts of the criminal life ever written" according to Will Self. Self says that he particularly likes Smith's "refusal to excuse his own behaviour morally or blame poverty and disadvantage".
Today's world for Smith means he is in touch with his 3 surviving children and their children, has remarried and lives quietly in leafy Hampshire working as the editor of 'Inside Time' – a crucial paper for serving prisoners.
Witty, a skilful writer and speaker – and with almost "unrivalled experience of the criminal justice system and the criminal underworld", Razor Smith will talk honestly about his life, his view of the criminal and prison world. His first talk in Dorset will not be a run-of-the mill history lecture. It will undoubtedly include some "rich seams of verbiage" which may baffle you and make you laugh at the same time.
The only thing that remains of Razor is that he is still softly spoken.
---
The evening featured not only Noel but also

Toby Langton-Gilks
Toby is a Musical Tutor who runs 'Urban Beat Shop' and Music Technology courses at HMP Guys Marsh.
He talked about his work with the prisoners.
Friends of Guys Marsh raised over £1000 after hosting this sold-out talk.
Smith managed to amuse and silence his audience at the same time with tales of "how an innocent 14 year old boy" became a criminal with 65 alleged convictions in one afternoon and his subsequent 32 years on the "merry-go-round" of committing major robberies with his gang, with their proceeds totalling £1.4 million, and the resultant times in jail.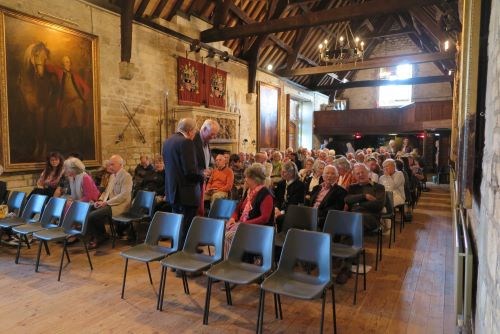 He also explained how, when first entering prison, he ensured that other inmates "gave respect" – stare them straight in the eye and spit on the ground.
Going on to speak movingly of how he managed to teach himself to read whilst in solitary confinement; then to write and eventually turn his energy to the productive life he now has as commissioning editor for "Inside Time", the monthly newspaper for prisoners.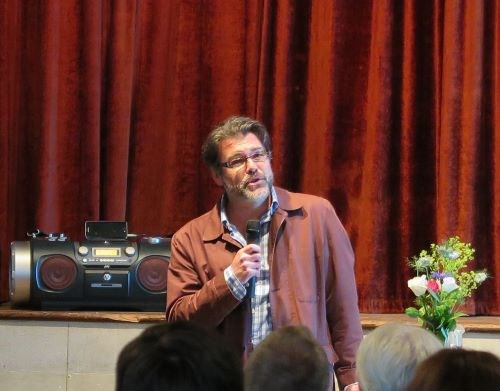 Also speaking movingly of his voluntary "time" in HMP Guys Marsh was Toby Langton-Gilks who, some four times a week, works in the prison as a musical tutor, running "Urban Beat Shop" and Music Technology courses for the prisoners.
The audience listened to a compilation of songs and poems created by the prisoners, with lyrics expressing some of the fears, regrets and woes of the prisoners' lives.
The money raised will fund a prisoner who has applied to FOGM to finish a City and Guilds, Internal Quality Assurance (IQA) course.
With a qualified IQA in place, the Guys Marsh PE Department will be able to offer, and assess, a wide range of courses resulting in Diplomas in areas such as Personal Training, which will help prisoners secure lasting work on their release.